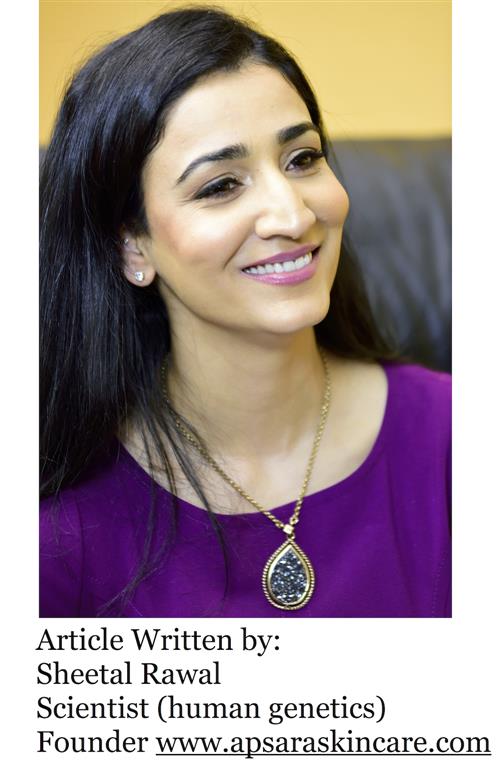 What is that magical combination of ingredients that delivers serious results and does so naturally?
Well, quite frankly, many natural ingredients can be combined creatively to create blends and potions that are out of this world! But the top of my list is this pair that delivers serious results. If you struggle with a skin issue like pigmentation, dark spots, unevenness or dullness, then any product or home remedy that brings together turmeric and saffron is your bet.
This marriage is made in heaven, so to speak. Of course, you don't want to use these beautiful ingredients in combination with harsh chemicals. You wouldn't want to jinx the magic they bring to your skin. It is like this: all day you eat beautiful, fresh and organic food and then at the end of the day you undo the effects by eating fast food for dinner.
So why is the pairing of turmeric and saffron as magical as it is? Here are the top reasons.
1. Fades Discoloration of Skin and Evens Out Your Skin
While turmeric brings in its antioxidant power, saffron complements this benefit by enhancing the rate at which your skin resurfaces. As an antioxidant, the curcumin in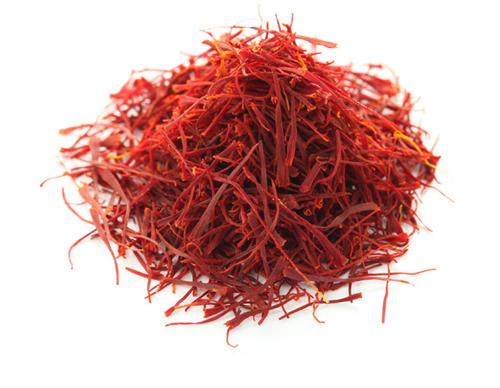 turmeric is this magical component that checks free radicals before they can do damage to your skin. Poor diet, harsh chemicals in skin care products, too much sun: all these factors can dramatically increase the free radical production in your body and when left unchecked, issues like discoloration start to become evident. While
turmeric
handles free radicals,
saffron
might encourage the skin cells to shed faster so the healthier layers can come to

surface

quickly. So the effect of this beautiful pair is astounding. It helps internally and externally. So this is great news!
Home Remedy
1 tsp. of oat flour
2 strands of saffron
1/4 tsp. of turmeric
Aloe vera juice to paste
Mix. Apply on your skin and wash in 10 minutes. Follow with serum and lotion.
2. Enhances Skin Glow & Clarity
Both turmeric and saffron have been used as glow enhancers for thousands of years in Ayurveda. In India, brides-to-be get smeared with turmeric for this very reason. When too much sun, inadequate sleep or hormone-related dullness result in a lackluster skin, a homemade potion made with these superstars can do the much-needed fixing. Again it is the antioxidant potential in turmeric and cell renewal properties of saffron that makes this combination unforgettable. Using a high-quality skin care product with both these natural ingredients is a brilliant idea.
In this short video, I teach you a simple homemade remedy that uses both saffron and turmeric in combination with almond milk. Use it today and please share your comments with me below.
3. Anti-Aging Elixir
Is there anything like an age-defying divine elixir? Well, we might wonder if this secret elixir exists: this fountain of youth. I will say this: when the best of nature gets artfully combined, magic is bound to happen. And an artful pairing of saffron and turmeric can get supercharged with age-defying energy. Turmeric comes to the forefront here as well.
Much of early aging is a result of inflammation and free radical damage. I already covered the free radical busting potential of turmeric. What I will add is that turmeric has been very well known in Ayurveda to have some serious anti-inflammatory properties.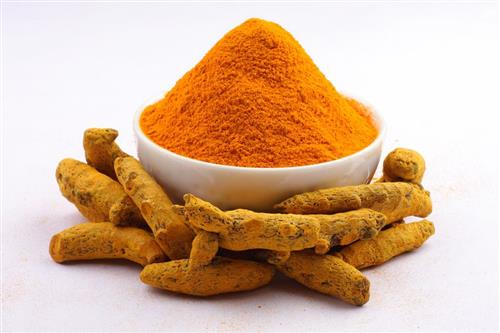 Now at the outset, let me clarify something. If you are thinking inflammation is redness of skin, you are right, but not entirely. Poor lifestyle, contaminated diet and harsh chemicals in personal care products put our bodies under a lot of stress. This causes our immune system to be on overdrive. The result is an underlying systemic inflammation that does not necessarily have to look like red and sensitive skin. But it does put enough stress on our physiology for early aging to result. So when turmeric cools off this inflammation, internally as well as externally, your body and skin are bound to not age before time.
A diet that includes turmeric powder and
skin care products
that include turmeric essential oil, an awesome idea without a doubt.
Saffron has also been known for its anti-aging properties. It could stimulate the collagen and elastin production, which results in skin that looks firm and well-toned. Using saffron on your skin on a regular basis is believed to increase the amount of oxygen to the skin's cells by improving the blood circulation. Some people might experience a flushed appearance of skin while using saffron, and this might be due to its ability to increase blood circulation to the skin. Detoxification of skin and improved cell health results and this could well be behind the anti-aging potential of saffron. Therefore, using a high-quality product with both saffron and turmeric in it can only be an awesome idea.
Home Remedy
1 tsp. of smooth almond butter
2 strands of saffron
Enough almond oil to make a creamy paste
Mix well and massage your skin with it for 3-5 minutes. Leave on for 10 more minutes and then wash with lukewarm water. Use your serum and lotion right after.
4. Fights Acne Like a Pro
Turmeric, in particular, comes to the rescue if you are faced with acne. Saffron aids the job by reducing the appearance of dark spots that acne leaves behind. Often these blemishes take forever to fade, and sadly while they are fading new acne pops up and this cycle leaves us frustrated and wishing for something natural to help. Turmeric has been known in Ayurveda for its natural anti-bacterial and antiseptic properties. This means help with the inflammation, pus, and tenderness associated with acne. With regular usage, you will notice that acne heals quickly and the chances of a blemish or scarring are far more reduced. Saffron is thought to increase blood circulation to your skin, and this can be seen to help your skin heal and bounce back quickly.
Home Remedy
2 tsp. of bentonite clay
1 strand of saffron
1/4 tsp. of turmeric
Rosewater to make a thick paste
Mix well until the saffron loses its color in this mix. Apply on your skin and let dry for 12 minutes. Wash with lukewarm water and follow with your serum and lotion for acne-prone skin.
"I've been using the Apsara products - the cleanser, serum, toner, and lotion - and I've been seeing a lot of good results. The areas near my nose have cleared up a lot, and I've also noticed a lot less acne."
5. Removes Dead Cells
Saffron is an awesome skin revitalizer and brightener. This is due to its skin exfoliating properties. When used regularly saffron speeds up the removal of dead cells and brings the glowing and soft layers to surface quickly. When used with turmeric, any irritation to your skin due to exfoliation is kept in check. So if you want soft skin that is also radiant, a mixture of saffron and turmeric is your skin's best friend.
Home Remedy
1 tsp. of rice flour
2 strands of saffron
1/4 tsp. of turmeric powder
8 drops of fresh lemon juice
Aloe vera gel to make a paste
Mix and apply on your skin. Allow it to firm up for 12 minutes. Wash with warm water and follow with your serum and lotion.
Ready to get your skin health and appearance to the next level? Flawless skin is a click away. Fill out this form with your skin care questions and wait for a speedy reply from me.
Share your comments with me below. Which one of the above saffron and turmeric homemade masks do you plan to use?
Go natural. It is good karma!