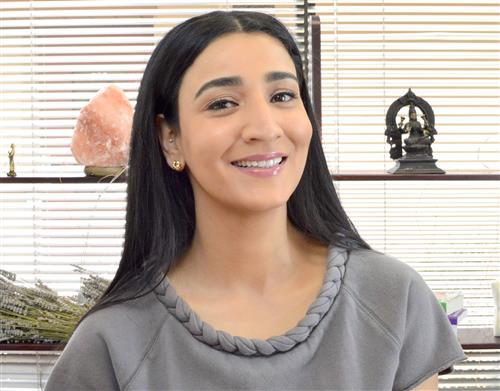 Left: Sheetal Rawal, scientist (human genetics) & founder of Apsara Skin Care
By: Marty S.
Home remedies by Sheetal Rawal
Even though our bodies change as we get older, scars stick around and never let us forget the dumb or unfortunate things you experienced when you were younger. Whether you receive them from relentlessly picking at your pimples, a nasty burn, or a childhood prank that went wrong, scars remind us that we were younger once. Sometimes they can prompt a fun story to share with your friends ("Do you remember the time I got a deep gash on my knee because you dared me to skateboard blind? Wasn't that fun?"), but other times, you just want your scars to disappear forever. They may come in different shapes and sizes, but scars usually are an eyesore if you want flawless and spotless skin.
Some people use microdermabrasion or laser treatments to get rid of their scars, but both can be a very unpleasant experience for others, not to mention the damage you may be doing to your skin. Instead, there are natural remedies you can use on your scars. While these remedies will not permanently remove scars from your skin, they can diminish the appearance of your scars and make them less visible.
1. Aloe Vera
Aloe vera is a superior natural ingredient when it comes to fading the appearance of scars as well as marks and blemishes. There have been studies that have shown aloe vera's ability to diminish scars. One reason for this is that aloe vera has anti-inflammatory properties, which can reduce swelling and inflammation from scar tissue. Those anti-inflammatory properties make aloe vera an excellent moisturizer too, perfect for hydrating and nourishing dry or damaged skin. Furthermore, aloe vera gel contains vitamins and nutrients that help promote skin renewal.
Usage Tip
Massage fresh aloe gel onto skin that is prone to scars, marks, or blemishes for 5 minutes. Leave it on for 12 minutes. Follow with your toner, serum, and lotion. Use 1 to 3 times a week.
"I've been using Apsara products for a long time now, and the results are amazing! I'm really satisfied with the Acne Care Routine I'm using daily, and [my acne] has disappeared...I've got a lovely glow on my skin."
2. Cocoa Butter
Many people use cocoa butter as a body lotion because of its amazing nourishing properties; the fatty acids in cocoa butter deeply nourish your skin and help retain your skin's moisture. However, it is also believed that those same properties help with fading scars. The fatty acids in cocoa butter can nourish scar tissue, which helps soften it and smoothen the texture. This effect helps promote skin healing and even out your skin tone.
Usage Tip
Massage organic cocoa butter onto your skin for 3 to 5 minutes. Wipe it off with a damp towel and follow with a daily skin care routine based on your skin type. (Click here to find out what your skin type is.) Use 1 to 2 times a week.
3. Rosehip Oil
Vitamin A and Vitamin C are essential for scar regeneration because they help improve collagen and elastin production in your skin. Thankfully, rosehip oil is an abundant source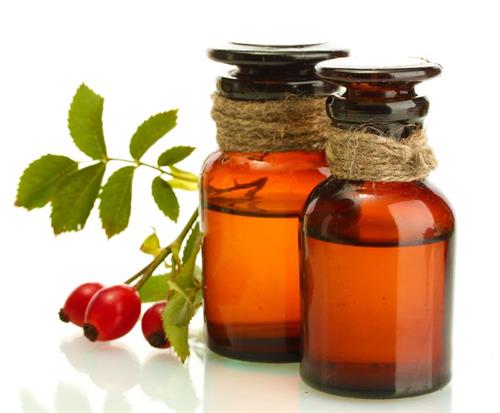 of both vitamins. When combined with the omega-3 and omega-6 fatty acids (for example, linoleic acid) also found in rosehip oil, these two vitamins can help fade the appearance of scars, improve your skin tone, and reduce the swelling from scar tissue. Thus, you should use rosehip oil for your scars, as studies have shown scar tissue can fade after continuous use.
Usage Tip
Using a rosehip oil-infused serum on your scars, marks, and blemishes can improve the appearance of your scars, especially when that serum is combined with other ingredients such as citric oils.
4. Tea Tree Oil
Tea tree oil has anti-inflammatory and antimicrobial properties; it can soothe inflammation caused by scar tissue and keep your skin nourished. Tea tree oil is a popular option to diminish both acne and acne scars. Once your acne has been successfully diminished with tea tree oil, you can continue to use it to reduce acne scars. However, before using tea tree oil, make sure that you dilute it first since undiluted tea tree oil may irritate skin.
Ingredients
5 drops of tea tree oil
2 tbsp. of jojoba oil
Instructions
Mix the ingredients together.
Massage the mixture onto your scars for 3 minutes.
Afterward, use your toner, serum, and lotion.
Use twice a week.
In this video, Sheetal will show you how to fade the appearance of acne scars right from home. Enjoy and please subscribe to my YouTube channel!
5. Apple Cider Vinegar
Apple cider vinegar has the ability to diminish the appearance of scars, marks, and blemishes because of its malic acid content. Malic acid, an alpha hydroxy acid, can slough up dead and dry skin cells, including those from scar tissue. Plus, by removing that surface layer of dead skin, apple cider vinegar allows newer, softer skin cells underneath that layer to come to the surface. Thus, using apple cider vinegar can both decrease current scars as well as speed up cell recovery.
Ingredients
½ tsp. of apple cider vinegar
3 tbsp. of rosewater
Instructions
Mix the ingredients together.
Dab the mixture onto your scars for 1 to 2 times a week. Leave it on for 15 minutes.
Follow with your daily skin care routine.
Use 1 to 2 times a week.
Information
Before using apple cider vinegar, especially if you do so by itself, you must dilute it because it may irritate your skin.
6. Lemon Juice
Another acidic natural ingredient you can use on your scars is lemon juice, and lemon juice derives its acidity from citric acid. Citric acid is another alpha hydroxy acid and thus is capable of exfoliating your skin and removing dead and dry skin cells. Unlike apple cider vinegar, lemon juice is known to lighten the skin so it can be used to improve your skin tone. Plus, lemon juice is a good source of Vitamin C, which helps improve collagen production; apple cider vinegar, on the other hand, has little to no Vitamin C.
Ingredients
8 drops of fresh lemon juice
2 tbsp. of bentonite or fuller's earth clay
Rosewater, as needed
Instructions
Mix the lemon juice and clay together. Add enough rosewater to the mixture until you get a paste.
Apply the paste and leave it on for 15 minutes.
Wash it off and use your daily skin care routine afterward.