By: Sravanthi P. & Sheetal R.
We often categorize our skin either as oily, dry, normal or combination. Your skin could be sensitive no matter what general type if falls under. Skin type is normally determined by the amount of oil produced by the sebaceous glands of the skin, while sensitivity is more to do with whether the skin is calm in general and able to protect itself without reacting adversely to triggers like weather, water temperature, ingredients, food, sun exposure etc.
Every person has a different reason for labeling their skin as "sensitive". In general harsh ingredients in skin care products might be the leading trigger for the skin to react adversely. It can become red, inflamed, raised or can break out into acne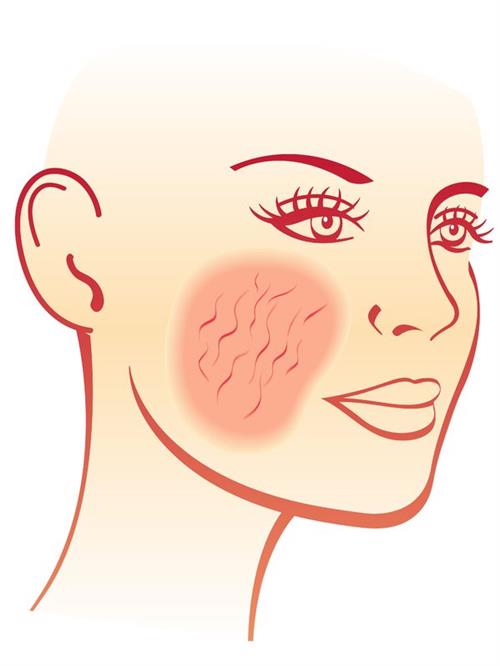 Many people with sensitive skin tend to search in the beauty aisles to find a product that is made for them. They believe that anything that says "for sensitive skin" on the product label is free of triggers. However what is mild for one individual can be just the opposite for another. In such a situation we can rely on ingredients that have withstood the tests of time; with a large population reporting similar positive results after using them. Such evidence (empirical) is what makes an ingredient unforgettable and never out-of-fashion so to speak. However, even in the case of very calming natural ingredients, it is best to do a patch test behind your ear in case your skin is extremely sensitive.
Here is a list of 5 ingredients that can be your best allies if you have sensitive skin. Look for these in the label of your product. While looking at that label be sure you do not see offenders like SLS, paraben, artificial fragrance (parfum), phthalate and more.
Aloe Vera Gel
This "plant of immortality" produces a magical serum which can be used to soothe your skin, especially if it is sensitive. In a previous article about aloe vera, its uses are elaborated in details.
Please click here to read that article. Aloe is used as an ideal aid for sunburns and inflamed skin. It soothes and instantly hydrates your skin as you apply it on your skin. It can become your skin's new best friend because of its mild and skin calming properties. It is a very good idea for aloe vera to be part of your skin care product such as a daily lotion.  
A word of caution on aloe vera: It is shown to increase the rate at which the upper layers of the skin shed and thus in a few users can cause the skin to become drier than desired. If this is the case with you, then you might like to choose from the other natural options available.
Usage Tip: To 1 tsp. of aloe vera gel, add 10 drops of high-quality Vitamin E and mix well. Massage this mix gently on your skin whenever it needs care or shows signs of sensitivity.
"Hi, my name is Asha, and I've been suffering from eczema from the year 2010. I had a very bad case of eczema and couldn't take any of the commercial products on my skin, especially the face. Then I heard about Apsara [Skin Care] on the radio and wanted to try it on, and I've been using that…[since] March 2018. I [found] a great difference after using that: my skin doesn't itch, my skin calms down immediately after I put the products. I hope I can stick with this product for my whole life."
Rosewater
An absolute wonder of an ingredient. However, be cautioned: not every rosewater is the same. Many
come with added ingredients like preservatives and such products simply beat the purpose for sensitive skin management and care. A toner made with high-quality rosewater can be an awesome option. Rosewater is truly an ingredient of repute as long as it is pure. It has astringent properties and calms down the skin like no other. While doing its magic on your skin it is also working on your mood! Yes. rose aroma is shown to calm down the senses and put you in a zen state of mind, which is only good when it comes to the health of your skin. Choose a serum with rose essential oil in it and rest assured that you have the very best product at hand to care for your sensitive skin. Of course, the product should have no harsh chemicals in it, or that would beat the purpose of putting something as precious as rose oil in it. This ingredient soothes the skin, provides anti-aging properties and the results can be seen for themselves. In its purest form rose comes at a price. But then a little goes a long way and who said cheap is best! No way! Not when it comes to your skin and general health.
Usage Tip: Dab on some high-quality rosewater on your skin to calm it down quickly. Or you can spray your favorite Apsara toner on your skin when it feels in need of some soothing care. However, using a toner am and pm every day rather than occasionally is the best idea. Many Apsara serums have high quality rose essential oil in them. Therefore they are an excellent choice to nourish and heal sensitive skin.
Chamomile
Chamomile? Isn't this a bedtime tea? Yes, Chamomile is best known as the tea that is taken to calm
the body before going to bed. Along with relaxing your body, this marvelous ingredient can also soothe your skin, especially if it is sensitive. Chamomile can reduce redness and perhaps even itchiness that is so common to sensitive skin. When part of a skin care product, chamomile can raise its skin soothing properties. It is also a very good ingredient for the tender and young skin of babies and kids. This same reason makes it an ingredient of choice to care for sensitive skin.  
Usage Tip: Dip a cotton ball into cool chamomile tea and dab it all over your skin, especially the parts that tend to be red or inflamed.
Oatmeal
This product is on everyone's list who wants to start dieting and get in shape. This should also be on
everyone's list who wants to heal sensitive skin with natural ingredients. Its anti-inflammatory properties make it suitable for sensitive skin. Natural sugars in oats form a slimy layer that attracts moisture to the skin. Well hydrated and well-nourished skin tends to have far fewer issues in general. But when it comes to sensitive skin, proper hydration and nourishment of the skin cells are non-optional.  
Usage Tip: Soak tsp. 2 of oatmeal in 5 tsp. of rosewater overnight. Then blend into a smooth paste. Add more rosewater in needed. Apply on your skin. Wash in 15 minutes and always follow with your serum and lotion for your skin type. Use this home remedy no more than 2 times a week. Find out your skin type by visiting this page.
Do you need another oat remedy to use on your skin? Watch this video to learn how to make a face mask using avocado and oat. Enjoy and please subscribe to my YouTube channel!
Cucumber
Two slices of cucumber on each eye. Familiar? Cucumber is an excellent ingredient to care for a
delicate area like the skin around our eyes. Therefore one can understand how it can be an awesome choice for sensitive skin in general. In Ayurveda, cucumber has a special place for its skin cooling and skin soothing properties. It is highly valued for its anti-pitta properties. Pitta is the fire element and when predominant in our bodies, makes us prone to redness and inflammation. Cucumber is also rich in vitamin C, which has antioxidant properties. Antioxidants are vital to keeping issues under check. When exposed to the sun, sensitive skin can get red and irritated. In such a scenario an antioxidant like vitamin C in cucumber can help to soothe the skin quickly.  
Usage Tip: When your skin feels sensitive apply some fresh cucumber juice on it with a cotton ball. If you have constant issues with sensitive skin, it is a good idea to dab on some cool and fresh cucumber juice regularly e.g. before you step out into a sunny day or before applying makeup.
Additional Notes: We have entered an age where consumers are beginning to take active steps to go natural with their personal care. However, it is important to pay attention to other ingredients in a product before it passes your test. It is easy to be misled. For example, a skin care product might have a fresh plant of aloe vera on its label along with a bold title "Natural Face Wash for Sensitive Skin". Despite having a natural ingredient, this same product may contain other harsh chemicals which can do more harm to your skin than good. Therefore it is crucial to read the complete ingredient list and be sure that we are not being misled to believe that a product is what it appears to be. This strategy is extremely important in our desire for flawless skin that does not age prematurely. But it is non-optional and indeed a must to care for sensitive skin and keep it calm and balanced and away from unpleasant flare-ups.
Ready for flawless skin and healthy hair using products with natural ingredients? Got questions on which Apsara products are ideal for you? Fill out this form with your question and I will guide you towards making the right choice.
Check out this page to read reviews from users of Apsara Skin Care products.
Go natural. It is good karma!