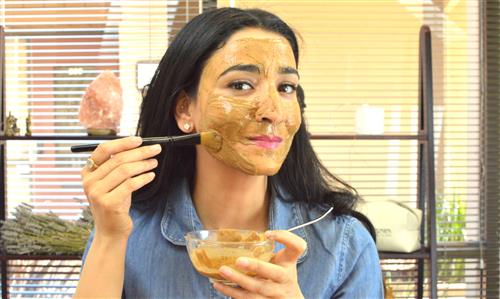 Left: Sheetal Rawal, scientist (human genetics) & founder of Apsara Skin Care
By: Sheetal Rawal
In this article, I would like to talk about facial masks. In the upcoming articles, I will write about the benefits of using facial masks as part of your regular skin care routine. What are facial masks? What purpose do they serve in the care of your skin? These might be your questions about facial masks. Or you might just be looking for some tips to help you make the right choice. There are quite a few available in the market and it can be confusing to zero in on the best one that is also suitable for your skin type and skin needs. So here are the answers:
You might be surprised to know that facial masks have been used for thousands of years as an extremely effective way to detoxify skin, tone facial muscles, exfoliate dead cells etc. In many traditional and natural systems of skin care, facial masks have a very important place for their skin healing and skin beautifying properties. In Ayurveda, which is a 3000 plus year-old system of health and well being, facial masks are called lepas and are highly recommended to be used on a regular basis as a supplement to one's daily skin care routine.
"The first time I purchased her products, the only concern I had was under-eye/dark circles, which, I would say, are 50% gone."
Facial masks are generally based on clays. There are many different types of clay found on Earth. Some names are bentonite, kaolin, red clay, etc. Clays are detoxifying in nature. As they dry on the skin, they draw out impurities and toxins from very deep within the skin. The result is deeply cleansed skin that glows with health.
Clays are also quite rich in natural minerals, which are great to enhance and maintain the health of your skin. As clays dry on your skin, they tighten and tone your facial muscles giving them a much-needed workout. The result is a very toned facial structure that does not look dull or sagged. As the clay dries, it also increases the blood circulation to your skin, and blood brings with it healing and nutrition.
So as you can see, by using a facial mask regularly you achieve results that you cannot by cleansing and moisturizing alone.
If you want to learn how to make a homemade face mask, watch this video to learn a turmeric and rice flour remedy. Enjoy and don't forget to subscribe to my YouTube channel!
In addition to clays, a good quality facial mask also has some added natural ingredients that add to the benefits. Neem, for example, is an added active ingredient that has been known for thousands of years to disinfect the skin. Similarly, sandalwood is well respected for its skin soothing and skin balancing properties. Sulfur as an added active ingredient is excellent to be used on acne-prone skin. Using a good quality facial mask that is suited to your unique skin type is worth the effort. Once or twice a week is ideal.
Stay tuned for more articles about facial masks. At Apsara, this week will be dedicated to raising awareness about facial masks. Let us know what you think of this information. Please comment. We love to hear from you ☺
If you need skin care advice from an expert, fill out this form and you will get a response from Sheetal asap.
Go natural. It is good karma!