Above: Sheetal Rawal, scientist (human genetics) & founder of Apsara Skin Care
Home remedies by Sheetal Rawal
Back when we were kids, the only thing we wanted to eat was sugar. Whatever form it came in (chocolate bars, candy, cereal, cake), whatever colors it was (brown, blue, green, orange, even violet!), we wanted it all. Fruits and vegetables, on the other hand, talk about yuck! They weren't sweet, they didn't look cool, they were just… healthy, or so our parents led us to believe. We grumbled when our parents forced us to eat stuff like Brussel sprouts, spinach, and tomatoes. During most of dinner time, we stared at our plate, poking our fruits and vegetables a few times to check and see if they would suddenly start moving on their own.
Now that we're adults, obviously we know that fruits and vegetables are important to maintain a healthy diet and that sugar should be eaten in moderation. Eating a balanced diet rich in fruits and vegetables feeds our skin with nutrients, minerals, and antioxidants that reverse the oxidative stress and protect our skin from aging prematurely. However, fruits and vegetables do more than just benefit a healthy body and mind. As a matter of fact, these anti-aging foods can be just as effective if you use them to fade lines and wrinkles!
So without further ado, let me share some of my favorite recipes that will help give you healthy radiance and a youthful appearance!
1. Strawberry & Bentonite Clay Home Remedy for a Youthful Complexion
Strawberries may be the anti-aging natural ingredient you've been looking for. This fruit is rich in antioxidants that help reduce the appearance of fine lines and wrinkles; one of these antioxidants in particular, Vitamin C, promotes the production of collagen. Along with folic acid, a compound in strawberries that promotes cell renewal, Vitamin C helps your skin create newer, more glowing skin cells. If that wasn't enough, the bentonite clay in this remedy reduces acne and removes impurities from your skin that can accelerate the aging process or make you look more aged.
Ingredients
1 tbsp. of mashed strawberries
10 drops of rosewater
Bentonite clay, as needed
Method
Mix strawberries and bentonite clay together. Add enough rosewater to the mixture until you get a paste.
Apply and leave it on for 12 to 15 minutes.
Wash it off with warm water. Follow with your toner, serum, and lotion.
Use 1 to 2 times a week.
Related:

"I'm obsessed. It keeps me glowing. It looks amazing under makeup!"
2. Kale & Coffee Face Mask for a Glowing, More Ageless Face
This popular green vegetable has vitamin K (along with vitamins A, C, and E), a nutrient that has rich anti-aging properties. It also decreases bloating and removes facial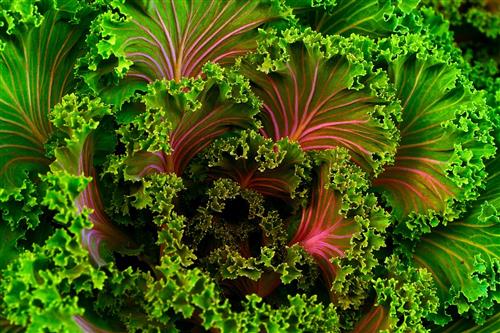 puffiness, which makes your face appear slender and more youthful. Besides kale, coffee is also capable of eliminating facial puffiness and swelling because of antioxidants and caffeine in coffee. Furthermore, caffeine can stimulate your skin and improve blood circulation, which results in a brighter skin glow.
Ingredients
2 tbsp. of fresh kale juice
2 tbsp. of brewed coffee
Method
Mix ingredients together.
Dab the mixture on with a cotton ball and leave it on for 12 to 15 minutes.
Wash it off with warm water. Follow with a daily skin care routine based on your skin type. Click here to find out what your skin type is.
Use 1 to 2 times a week.
3. Grape & Lemon Fruit Mask for Dull, Sagging Skin
Grapes contain resveratrol, an antioxidant that helps maintain the health of your skin cells. Although any grape would work for this remedy, red grapes are better to use than white/green grapes because of their darker skin color; for grapes, a darker skin color is indicative of more antioxidants and phytonutrients within it. Lemons, on the other hand, are a natural bleaching agent to get lighter skin. They also contain Vitamin C and citric acid; the former increases collagen production while the latter cleanses your skin of bacteria and impurities that may speed up the aging process.
Ingredients
1 tbsp. of mashed grapes
8 drops of fresh lemon juice
A pinch of rice flour
Method
Mix ingredients together.
Apply and leave it on for 12 to 15 minutes.
Wash it off with warm water. Follow with your toner, serum, and lotion.
Use 1 to 2 times a week.
If you want to learn about another fruit you can use for your skin, this papaya and coffee remedy can help you get soft skin. Enjoy and please subscribe to my YouTube channel!