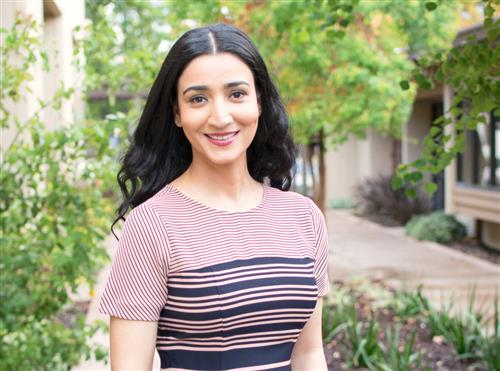 Left: Sheetal Rawal, scientist (human genetics) & founder of Apsara Skin Care
By: Marty S.
Home remedies by Sheetal Rawal
Rosehip oil has widely been touted as a superior anti-aging natural ingredient. Rosehip oil has been used for thousands of years and it has become popular today. After all, if it's good enough for the Duchess of Cambridge, it's definitely worth trying! However, beyond its ability to minimize lines and wrinkles, rosehip oil can also be used to diminish dark spots and blemishes. Dark spots and blemishes can sometimes be unsightly to look at, but when you use rosehip oil on your skin, you can reduce those skin issues while encouraging glowing, youthful skin.
If you are unfamiliar with the benefits behind rosehip oil, don't fret. We've compiled a list of 5 reasons why you should start using this natural ingredient, especially if you have dark spots and blemishes on your skin. You will also find 5 remedies that you can use at home so you can start using rosehip oil immediately.
1. Provides Nourishment to Skin to Diminish Dark Spots & Blemishes
Rosehip oil is quite nourishing for your skin due to its high fatty acid content, for example, linoleic acid and linolenic acid. These fatty acids can definitely help if you have dry skin, However, if you have another skin type, such as oily skin or normal skin, the fatty acids in rosehip oil can still keep your skin healthy. Developing dark spots and blemishes can often be a sign that your skin is not getting enough nutrients from your diet or it is being exposed to harsh chemicals regularly. If you nourish your skin, though, especially with an amazing anti-aging natural ingredient like rosehip oil, you can reduce blemishes on your skin as well as protect it from developing any more in the future.
Ingredients
½ tsp. of smooth applesauce
½ tsp. of grape juice
1 tsp. of rosehip oil
Instructions
Mix the ingredients together.
Apply and massage your skin for 3 to 5 minutes. Leave it on for 10 minutes.
Wash it off with warm water. Follow with your toner, serum, and lotion.
Use 1 to 2 times a week.
"The [Rose Dew Facial Toner] refreshes and tightens my skin...Every time I spray the toner, I feel like I have a little facelift because it tightens the skin, but nothing uncomfortable...My face feels balanced: not too oily, not too dry. It really is perfection."
2. Amazing Source of Skin-Friendly Vitamin A
Vitamin A is one of the best compounds you can use on your skin if you have dark spots and blemishes. That's because Vitamin A is known to promote cell regeneration. When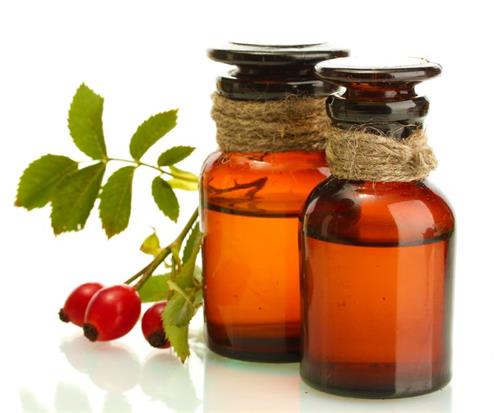 your skin produces more cells, you are producing more younger-looking skin in the process and fading the look of dark spots and blemishes. Plus, Vitamin A has the added benefit of helping you reduce the appearance of fine lines and wrinkles. Though a lot of natural ingredients utilize Vitamin A, one of them, in particular, is rosehip oil. It is no wonder then that rosehip oil is considered by many to be a superior anti-aging ingredient.  
Ingredients
¼ tsp. of powdered brown sugar
1 tsp. of rosehip oil
Instructions
Mix the ingredients together.
Apply the remedy onto your skin. Massage your skin very gently for 3 to 5 minutes.
Wash the remedy with warm water. Follow with a daily skin care routine based on your skin type. Click here to find out what your skin type is.
Use 1 to 2 times a week.
Notes
For this remedy, you must massage your skin very gently to avoid irritation.
3. Helps You Generate More Youthful-Looking Skin
Speaking of cell regeneration, rosehip oil is able to improve the look and texture of your skin because of both Vitamin A and fatty acids. As mentioned above, Vitamin A can reduce the appearance of lines, wrinkles, dark spots, and blemishes and generate newer, younger-looking skin in the process. (There's a reason that Vitamin A is such a popular ingredient in many skin care products.) Fatty acids, on the other hand, can help promote cell regeneration because they nourish the skin and keep your skin cells healthy.
Ingredients
1 tsp. of papaya puree
4 drops of castor oil
½ tsp. of rosehip oil
Corn flour, as needed
Instructions
With a fork, mash up fresh papaya until you get a puree.
Mix the puree, castor oil, and rosehip oil together. Add enough corn flour to the mixture until you get a paste.
Apply the paste and leave it on for 12 to 15 minutes.
Wash the paste off with warm water. After, use your daily skin care routine.
Use 1 to 2 times a week.
Notes
The paste will not dry completely on your skin, but it will stiffen up.
If you need another remedy to make blemishes vanish, watch this video to learn a saffron and orange DIY. Enjoy and don't forget to subscribe to my YouTube channel!
4. Rich in Antioxidants to Promote Clear, Glowing Skin
Sometimes your skin develops dark spots or blemishes because it is malnourished, but other times it is due to external causes. One well-known cause is free radicals, which can be the result of sun damage, pollution, et cetera. Free radicals can damage skin cells and cause skin issues like dark spots, blemishes, and wrinkles to appear. When they are not adequately addressed, free radicals can make our skin look dull and less youthful. One way to get rid of these free radicals is by using antioxidants, and rosehip oil is a great source of them. By applying rosehip on your skin - either by itself or through a home remedy - you can ensure that your skin looks more glowing and is free of any skin imperfections.
Ingredients
1 tsp. of rosehip oil
1 ½ tsp. of chickpea flour [besan]
Rosewater, as needed
Instructions
Mix the rosehip oil and chickpea flour together. Add enough rosewater to the mixture until you get a paste