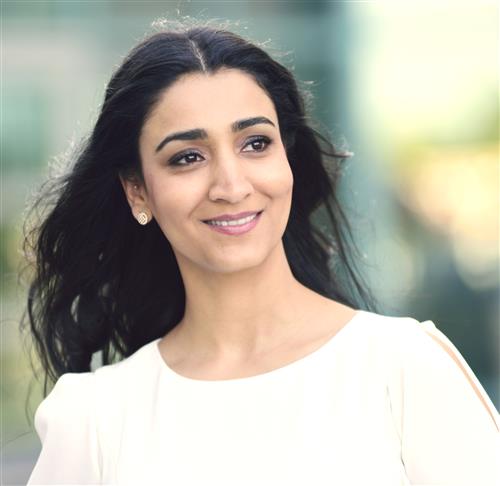 Left: Sheetal Rawal, scientist (human genetics) & founder of Apsara Skin Care
By: Marty S.
Home remedies by Sheetal Rawal
For those of you who have wanted to style your hair into the perfect shape, you might have used hairspray in the past. Whether you have some stray flyaways or you want to eliminate frizzy hair in a snap, a couple of sprays can make your hair look more voluminous and glossy. However, if you have ever accidentally gotten some hair spray in your mouth or your eyes, you will know how unpleasant and irritating that experience is. You may start coughing a lot or you may have to wash your eyes to avoid excess irritation. Since the harsh chemicals in hairspray can negatively impact your mouth, eyes, and skin, can you imagine what those chemicals might be doing to your hair?
In reality, you don't need hairspray to get more shine and volume out of your hair. Instead, you should style your hair with a hair serum, especially one made with natural ingredients. Hair serums can help your hair look shinier and more beautiful, so much so that you won't miss that bottle of hairspray. If you want to discover how you can replace hairspray, continue reading to learn how to make these 3 DIY homemade hair serums.
1. Sunflower Oil DIY for Nourished, Glossy & Voluminous Hair
One reason why many people turn to hairspray in the first place is that it can tame unruly hair. Unruly hair is sometimes a sign that your hair is malnourished. Malnourished hair is more prone to problems like dryness, hair breakage, split ends, and tangles. While hairspray might be able to lock your hair into place, it will serve as only a quick fix and won't do anything to resolve those underlying issues. If anything, the harsh chemicals in hairspray may exacerbate those issues and may make your hair look even worse.
Rather than use hairspray, you should use a hair serum to style your hair, preferably one that contains a natural beauty oil. Sunflower oil, for instance, is rich in fatty acids that are capable of revitalizing your hair from root to tip. This, in turn, helps strengthen your hair strands and protect your hair from dryness, frizziness, split ends, et cetera. Even if you're worried about the damage that has accumulated from your hairspray usage, sunflower oil can start the repair process so that your hair looks shinier and thicker naturally.
Ingredients
2 drops of sunflower oil
1 drop of castor oil
1 tbsp. of rosewater
Instructions
Emulsify the ingredients together with a fork.
After using your shampoo and conditioner, apply 2 or 3 drops of this remedy on your wet hair when you comb it.
Use when needed.
Notes
You may add more drops to your hair, but you should start gradually to avoid greasy hair.
"Within a few weeks, my dandruff actually went away...So if you want healthy hair, if you want to give this product a try, I would really recommend it. It's Rosemary & Amla Hair Oil."
2. Castor Oil DIY to Tame Dry, Frizzy & Unruly Hair
Another beauty oil that can be incorporated into a hair serum is castor oil because of its fatty acid content. Moreover, many people tout castor oil as a natural hair conditioner for three reasons. First, castor oil has antimicrobial properties; once applied, castor oil is able to clean your scalp and hair as well as reduce the risk of a bacterial infection. Second, castor oil has been thought to improve hair growth; castor oil can improve blood circulation to the scalp, which helps your hair follicles receive more nutrients and, in turn, achieve healthy hair growth. Third, castor oil is a humectant, which means that it can lock in the moisture within your hair strands and prevent them from naturally drying out. Castor oil is quite thick, but you only need 1 or 2 drops of it to style your hair into the right shape without it looking too greasy.
Ingredients
1 drop of castor oil
1 tsp. of jojoba oil
Instructions
Mix the ingredients together.
After using your shampoo and conditioner, apply 2 or 3 drops of this remedy on your wet hair when you comb it.
Use when needed.
3. Vitamin E & Almond Oil DIY to Comb & Style Your Stunning Hair Easily
Although our primary concern with hair serums is that they should work just as well as hairspray, if not better, it would be an added bonus if they could contribute to a more ageless appearance. For instance, a hair serum that could boost the health of our hair and reduce our risk of premature graying would be amazing. Luckily, that is possible when we use a hair serum that contains Vitamin E. Vitamin E is an antioxidant that helps protect your hair (as well as your skin) from free radical damage. Because free radicals can harm your hair strands and lead to the development of hair issues such as hair breakage and premature graying, it is in your best interest to reduce their impact on your hair as much as possible. Of course, you can get Vitamin E from Vitamin E oil, but you can also find Vitamin E in almond oil, yet another great source of fatty acids. By using Vitamin E oil and almond oil in one hair serum, you can ensure that your hair is easily styled, nourished, and more ageless at the same time.
Ingredients
2 drops of Vitamin E oil
2 drops of almond oil
1 tbsp. of aloe gel
Instructions
Emulsify the ingredients together with a fork.
After using your shampoo and conditioner, apply 2 or 3 drops of this remedy on your wet hair when you comb it.
Use when needed.
Your diet can play a vital role if you want thick, glossy hair as well as youthful skin. Watch this video to find out more. Enjoy and please subscribe to my YouTube channel!
If you are looking for more hair care advice or product recommendations, please feel free to fill out this form to get expert advice from us.
Go natural. It is good karma!