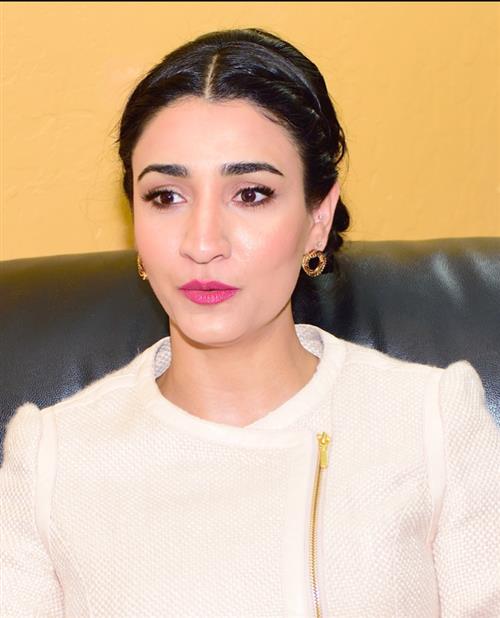 Left: Sheetal Rawal, scientist (human genetics) & founder of Apsara Skin Care
By: Marty S.
Home remedies by Sheetal Rawal
The image of soft, plump, kissable lips always seems to start with lipstick. Lipstick is a handy tool that can make seemingly anyone's lips desirable; you can use it to coordinate your outfit or make a bold statement. Whether you want to go with the standard pink, red, and violet or you want to try something new and use blue or green, there's a lipstick shade for everyone. Even if you picked a random point on the color wheel, there would probably be a lipstick shade for that.
Yet, if you don't like using lipstick, you may be forced to use it because you want to hide your discolored, dull lips. Discoloration can make your lips not very appealing to look at, but what can be equally frustrating is that you might not know how to get rid of it. You may also be afraid of exposing your lips to products that contain harsh chemicals, which can worsen your discoloration. Luckily, we are here to help. Here are 3 easy DIY home remedies that you should use to fade lip discoloration. If you want your lips to be as naturally pink as possible, you must give these remedies a try!
1. Brown Sugar DIY Home Remedy for Even, Dewy Lips
One common method of eliminating discoloration, whether it exists on your lips or on your skin, is exfoliation. Exfoliation is the process in which you slough off the dead cells on the upper layers of your skin. This, in turn, encourages your skin to generate newer skin cells that can help you look more youthful and even-toned. While your skin is capable of shedding those dead cells naturally, we can help speed up the process.
There are many ways to exfoliate your skin, but some exfoliants are so coarse that they can irritate your skin and cause excessive dryness and redness. You should also take extra care with your lips because they can be quite sensitive. Brown sugar, thankfully, is an effective exfoliant that is gentle on your skin. In addition to its texture, brown sugar is able to exfoliate your skin due to an alpha hydroxy acid called glycolic acid, which helps break down dead skin cells. With help from brown sugar, even-toned pink lips can be yours, and you won't have to look far to get them.
Ingredients
5 drops of Vitamin E oil
1 tbsp. of powdered brown sugar
2 tbsp. of almond oil
Instructions
Mix the ingredients together.
Apply and scrub your lips for 3 to 5 minutes.
Wipe the remedy off. Follow with your natural lip salve.
Use 1 to 2 times a week.
"Ever since I started using these products, I started to see a vast improvement [in] my skin. It looked… healthier, more vibrant, more color[ful]."
2. Orange & Turmeric DIY Home Remedy to Eliminate Lip Discoloration Fast
Besides brown sugar, there are other natural methods for reducing the appearance of discolored lips. For instance, citric acid is an alpha hydroxy acid similar to glycolic acid and therefore has similar effects on your skin. Citric acid can also exfoliate your skin and dissolve dead skin cells, leading to more glowing, even lips. As its name suggests, citric acid is found in many citrus fruits, the most popular being orange and lemon.
Meanwhile, turmeric has been used for countless years in Ayurveda to brighten up the skin and even out skin tone. Because of the curcumin found within it, turmeric is an anti-aging, antioxidant powerhouse, capable of neutralizing free radical damage, diminishing inflammation, and keeping your skin as youthful as possible. However, if you don't want your lips to be stained with a yellow hue, we highly suggest using a small amount of turmeric when needed and following the home remedies found in this article as closely as possible. This will ensure that your lips will receive all the benefits from turmeric and will stay naturally pink.
Ingredients
8 drops of fresh orange juice
⅛ tsp. of turmeric powder
1 tbsp. of papaya pulp
Fuller's earth [Multani mitti], as needed
Instructions
Mix the orange juice, turmeric, and papaya together. Add enough fuller's earth until you get a thick paste.
Apply the paste and leave it on for 15 minutes.
Wash the paste off with warm water. Follow with your natural lip salve.
Use 1 to 2 times a week.
3. Aloe DIY Home Remedy for Plump Pink Lips
Skin discoloration isn't the only lip problem people struggle with, though. Some people also want their lips to be plumper and fuller. To achieve this naturally, all you need to do is moisturize and nourish your lips, no injections necessary. Properly nourished lips are able to absorb and retain moisture easily, which translates into lips that appear plumper and more youthful. Also, when you moisturize your lips, they are less likely to become chapped and dry.
To deeply moisturize and nourish your lips, you should use aloe vera. Aloe vera is known for its high water content, it contains a lot of good minerals and nutrients, and it is easily absorbed by your skin. As a result, aloe vera can rejuvenate your lips so that they look plumper for much longer.
Ingredients
⅛ tsp. of aloe juice
¼ tsp. of fresh lemon juice
1 tbsp. of avocado paste
Instructions
Mix the ingredients together.
Apply and massage your lips for 3 to 5 minutes.
Wipe the remedy off. Then, use your natural lip salve.
Use 1 to 2 times a week.
Notes
Because lemons are acidic and your lips can be sensitive, we highly suggest performing a small patch test on your skin to see if lemon juice will cause any negative side effects.
We have plenty of aloe vera home remedies to share with you all. Here is an aloe vera and mango-based home remedy that can help you obtain glowing skin in minutes. Enjoy and don't forget to subscribe to my YouTube channel!
If you need more skin care advice from us, feel free to fill out this form and you will receive advice from us shortly.
Go natural. It is good karma!