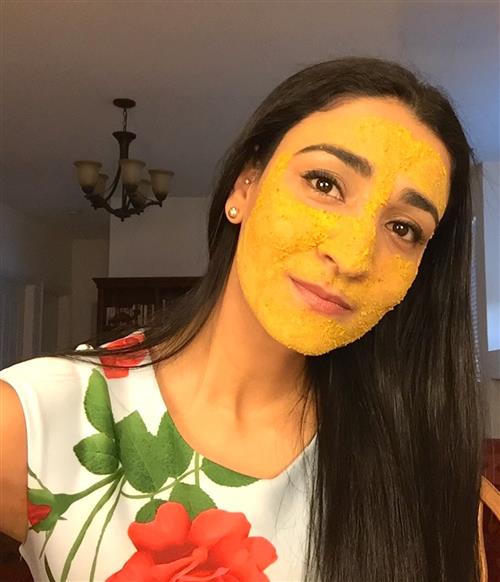 Left: Sheetal Rawal, scientist (human genetics) & founder of Apsara Skin Care
By: Marty S.
Home remedies by Sheetal Rawal
Unfortunately, as we get older, our skin will start to sag, and that is not a welcome sight. Nobody wants to look at their face in the mirror and have to pull back their skin in order to reveal a more stunning complexion. While you may think that the only way to tighten up sagging skin is to go under the knife and get a facelift, that is simply not the case. You won't need a facelift to firm up sagging skin when you have access to kitchen ingredients that can do the job for you.
Here are 3 natural homemade remedies to firm up sagging skin using kitchen ingredients. Most likely, these kitchen ingredients are hiding in plain sight so you won't have to look far and wide before creating any of these remedies. These anti-aging remedies can also leave your skin nourished and glowing. If you want to learn even more about these ingredients, click here.
1. Three Almond Remedy to Firm Up Sagging Skin
This remedy for sagging skin contains three different kinds of almonds! Why that many, you may ask? That's because almonds can provide some amazing anti-aging benefits. This remedy won't tell you to put raw almonds on your skin; rather, it will rely on different kinds of natural almond products, all of which bring a different element to the table. Almond oil contains fatty acids such as omega-3 fatty acids and monounsaturated fats, which help nourish and revitalize your skin cells. Almond butter contains a lot of protein, and this can improve the production of collagen, a compound that is vital for youthful skin. Finally, almond milk makes this remedy a lot more pliable and simple to use on your skin.
Even though almonds are already a great source of Vitamin E, adding Vitamin E oil to this remedy will make it even more powerful. Since Vitamin E is one of the best antioxidants to use on your skin, you might as well get as much of it as you can in this remedy.
Ingredients
12 drops of almond oil
1 tbsp. of smooth almond butter
10 drops of Vitamin E oil
Almond milk, as needed
Instructions
Mix the almond oil, almond butter, and Vitamin E oil together. Add enough almond milk to the mixture until you get a creamy consistency.
Massage your skin with this remedy for 3 to 5 minutes. Leave it on for 10 minutes.
Wash the remedy off with warm water. Follow with your toner, serum, and lotion.
Use 1 to 2 times a week.
"I really put [the Sweet Almond & Wheatgerm serum] where my fine lines are prone, definitely here at the temples and the smile lines...It doesn't feel oily, it doesn't feel greasy, and I honestly - it just feels like this lovely nourishing "goddessy" moment and that's not an exaggeration."
2. Oat Flour Remedy to Moisturize Skin & Fade Lines, Wrinkles
For those of you who love baking or live a gluten-free lifestyle, oat flour should be no stranger to you. It's a very handy natural ingredient that you could use to make various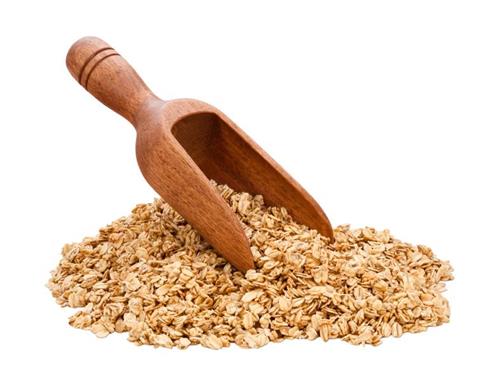 types of bread, dessert, et cetera. What you might not know about oat flour is that it has a lot of anti-aging potential because it has anti-inflammatory and moisturizing properties. This means that oat flour helps diminish the appearance of lines and wrinkles, especially when combined with other anti-aging natural ingredients, for instance, turmeric.  
If you don't have oat flour, you can grind up some oatmeal until you get a fine powder. Since many of us have oatmeal on hand for a quick and hearty breakfast, this remedy should be no problem for you.
Ingredients
1 tbsp. of oat flour
8 drops of vegetable glycerin
⅛ tsp. of turmeric
Rosewater, as needed
Instructions
Mix the oat flour, vegetable glycerin, and turmeric together. Add enough rosewater to the mixture until you get a paste.
Apply the remedy and leave it on for 12 to 15 minutes.
Wash it off with warm water. Follow with a daily skin care routine based on your skin type. Click here to find out what your skin type is.
Use 1 to 2 times a week.
3. Lemon Juice Remedy to Increase Skin Glow & Promote More Youthful Skin
This final remedy makes good use of lemons. Isn't it so easy to acquire a lemon nowadays? If you don't have a lemon tree growing in your backyard, you should be able to find plenty of lemons at your local natural foods store or grocery any time of the year because this fruit is in season year-round. Not only are lemons readily available, but they also pack some serious anti-aging benefits and can brighten up your skin in a jiffy.
However, even though it might seem like you could apply lemon juice immediately after squeezing a lemon, we want to advise a word of caution. Undiluted lemon juice is dangerous and can cause skin irritation, inflammation, redness, and dryness. In order to apply lemon juice on your skin safely, you must first dilute it with water; even better, mix it into a natural home remedy, like the one below. You should avoid applying lemon juice around your eye area because that skin, in particular, is very delicate.
Ingredients
8 drops of lemon juice
6 drops of almond oil
8 drops of apple juice
1 tbsp. of bentonite clay
Aloe juice, as needed
Instructions
Mix the lemon juice, almond oil, apple juice, and bentonite clay together. Add enough aloe juice to the mixture until you get a paste.
Apply the remedy and leave it on for 12 to 15 minutes.
Wash the remedy off with warm water. Then, use your daily skin care routine.
Use 1 to 2 times a week.
Notes
Here is an easy anti-aging remedy that you should try at home for sagging skin. It helps reduce premature aging as well as boosts skin glow. Enjoy and please subscribe to my YouTube channel!
If you need more personalized skin care advice, fill out this form to get an email from Sheetal in a snap.
Go natural. It is good karma!