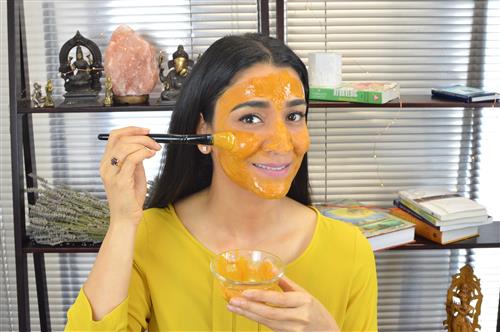 (Part 2 of the article that was published in Atelier magazine in September 2011.)
By: Sheetal Rawal
2. Caring for Your Face and Neck
Daily Regimen
A basic daily skin care routine (AM and PM) means that your skin gets adequate nourishment externally to complement its natural attempts at remaining in balance. In addition, daily care is essential to supplement nourishment lost due to environmental factors like weather and pollution.
Cleanse: An ideal cleanser to use is sulfate-free (mild), and won't disturb the natural acid mantle of your skin (pH-balanced). Cleansing rids your skin of dirt, grime, and excess oils and readies it for the next steps. Simply wet your skin and massage in the cleanser for 2-3 minutes. Rinse with lukewarm water.
Tone: Spray a generous mist of your toner all over your face and neck just after you have cleansed. Toning closes the open pores of your skin and improves the overall tone and texture of your skin. As your skin habituates itself to the toner, it should begin to look taut and youthful. A good quality toner is alcohol-free and based on a natural astringent like rosewater. In addition, it can have some targeted natural active ingredients in it that are most suitable for your skin type.
Nourish & repair: Serums are indispensable to radiant skin. They have higher percentages of specific ingredients that travel deep within the skin to renew and repair it. A few drops or a pea-sized amount is generally just enough to do the work. Apply it when your skin is still a bit damp from toning. Be sure to cover your neck area, which tends to show signs of neglect even sooner than the facial skin.
Moisturize: Apply a generous amount of a lightweight lotion on your face and neck area with gentle upward strokes. Massage your skin for a few minutes until the lotion seeps in. Blot the excess with a facial tissue. A lightweight lotion is absorbed by the skin readily and doesn't leave it feeling greasy and overloaded. Remember that it is the active ingredients that matter the most. A lotion due to its lightweight is capable of carrying the actives deeper within.
Revitalize your eyes: Drinking plenty of water, getting enough sleep, and an eye care routine can go a long way to banish those stubborn under-eye circles and puffiness. The skin around your eyes is very delicate and prone to reacting to the chemicals in skin care products. Choose a natural and chemical-free eye serum to do the job. A great active ingredient in an eye serum is cucumber extract, which has been used for centuries and across the globe for optimal eye care. Use your ring fingers to minimize pressure while applying the serum all over and around your eye area.
"My skin [feels] radiant and healthy and really looks nice. I see a lot of changes since I started using it. I recommend it highly. And I love it."
Weekly Regimen
* Take the extra time once (or twice) a week to exfoliate. A facial scrub with fine grains and natural Alpha Hydroxy Acids (eg. citrus oils) accelerates the shedding of the dead skin cells.
* Follow with a face & neck massage. You can use a generous amount of your daily serum or lotion and massage your skin with gentle, upward strokes with it (work against the gravity). After 5-7 minutes of massaging, blot the excess with a facial tissue.
* Apply a mask on your face and neck, and rest while it dries. Masks are excellent to detoxify and repair the skin. As they dry, masks help increase the blood circulation to the skin, and blood brings with it oxygen and nutrition. Remember to moisturize after the mask has been washed off.
If you need advice for your skin care routine, fill out this form and you will get a quick response from us.
Go natural. It is good karma!