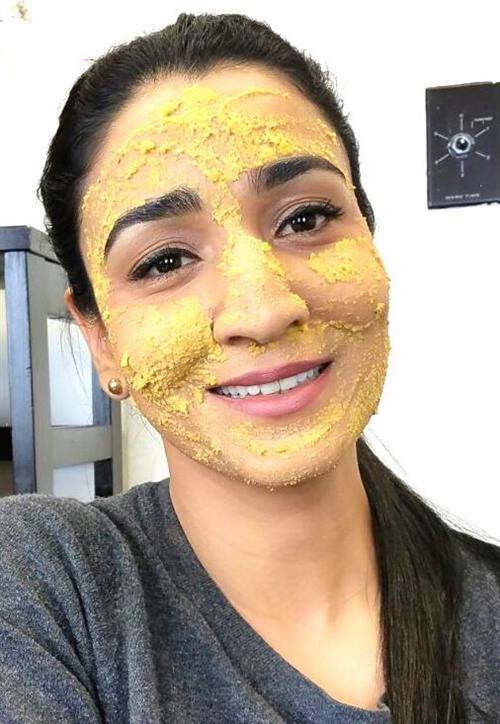 Left: Sheetal Rawal, scientist (human genetics) & founder of Apsara Skin Care
By: Marty S.
Home remedies by Sheetal Rawal
The thought of eating a raw lemon might make your lips pucker, but that changes depending on how you use it. For instance, when the weather becomes unbearably hot, there's nothing that seems to cool you off better than a tall glass of freshly squeezed lemonade. If you've ever taken a brisk walk around your neighborhood when the sun beats down, lemonade stands may start to look like oases to you. Similarly, adding a slice of lemon as a garnish to a sizzling savory dish would make anyone's mouth water.
Even though summer is almost over, lemons will always be there for us, especially when it comes to skin care. In fact, lemons are amazing to use on your skin because they help minimize signs of aging, hyperpigmentation, and discoloration. If you don't know what lemon juice can do for your skin or how to use it, you're in luck because we have three anti-aging home remedies that all harness the power of lemons. You should use these to diminish the appearance of lines, wrinkles, and other signs of aging on your skin.
Beware, though: lemons are just as dangerous as they are potent because of the acidity. Undiluted lemon juice can backfire tremendously and cause excess irritation, dryness, redness, and inflammation. To avoid this, you must dilute lemon juice with water or use it in a curated anti-aging home remedy, such as the ones found below. Even better, perform a patch test on your skin before attempting any of these remedies to see if lemon juice produces a negative reaction.
1. Lemon Juice Remedy for Glowing, Ageless Skin
One of the reasons why lemon juice is so powerful is because it contains a compound called citric acid. Citric acid is an alpha-hydroxy acid that has amazing anti-aging skin benefits. When you use lemon juice externally, it will help slough up dead cells on the surface of your skin. This process is called exfoliation. Although your skin is capable of shedding those dead cells by itself, lemon juice can speed up that process as well as improve cell turnover. By removing those dead cells, you are encouraging newer, more youthful skin cells to surface, which leads to a younger-looking complexion and fewer lines and wrinkles.
Ingredients
12 drops of fresh lemon juice
1 tbsp. of oat flour
Almond milk, as needed
Instructions
Mix the lemon juice and oat flour together. Add enough almond milk to the mixture until you get a paste.
Apply and leave the remedy on for 12 to 15 minutes.
Wash the remedy off in 12 to 15 minutes. Follow with your toner, serum, and lotion.
Use 1 to 2 times a week.
"One of my favorite products is the Nut Shell Facial Scrub. This is an exfoliating scrub, and it really helps my skin glow, especially in the winter time when it can feel really dull. I highly recommend this product and other Apsara products to anyone who wants to feel good in their skin."
2. Lemon & Saffron Paste for Bright, Blemish-Free Skin
As an exfoliant, lemon juice can also address a wide variety of skin concerns, for example, dullness, acne, and blemishes. Too many dead cells accumulating on your skin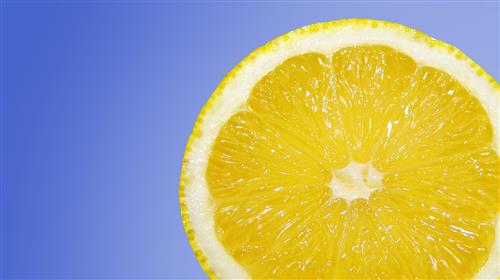 can make your skin look dull as well as clog your pores, which may lead to acne and inflammation. As a result, exfoliating your skin with lemon juice will help make your skin look brighter and more even. Plus, citric acid is antibacterial; since acne is usually the result of a bacterial infection, you can use lemon juice to purge blackheads, cleanse your pores, and minimize acne breakouts.  
Ingredients
4 strands of saffron
1 tbsp. of aloe gel
12 drops of fresh lemon juice
Corn flour, as needed
Instructions
Add the saffron and aloe gel in a bowl. Let the saffron soak until it loses its color.
Combine the lemon juice with the saffron and aloe mixture. Add enough corn flour to the mixture until you get a paste with the consistency of ketchup.
Apply the paste and leave it on for 12 to 15 minutes.
Wash the paste off with warm water. Follow with a daily skin care routine based on your skin type. Click here to find out what your skin type is.
Use once a week.
Notes
Saffron is also known to be a skin brightener, but in order to use it effectively, you must let the aloe soak the saffron until the saffron loses its color in this remedy.
3. Lemon Juice & Turmeric Paste to Diminish Lines & Wrinkles
Another component integral to lemons is Vitamin C. Vitamin C is famous for its ability to boost your immune system, but what you might not know is that if you want fewer lines and wrinkles, you need more collagen. Collagen is a protein that is responsible for our skin's youthfulness, elasticity, and firmness. Although collagen is naturally found in our body, it will start to break down faster than our body is able to produce it. One way to get more collagen is through protein (whether you add more of it into your diet or apply it externally with a home remedy), but another way is with Vitamin C.
Not only that, Vitamin C is an antioxidant that works to neutralize free radicals. Free radicals are compounds that can do a lot of harm to your skin, causing dullness, discoloration, lines, wrinkles, et cetera. Therefore, getting rid of these compounds is best for the health and beauty of your skin, which is why using lemon juice on your skin may leave it looking youthful and glowing.
Ingredients
15 drops of fresh lemon juice
⅛ tsp. of turmeric powder
1 tbsp. of smooth almond butter
Rosewater, as needed
Instructions
Mix the lemon juice, turmeric, and almond butter together. Add enough rosewater to the mixture until you get a paste.
Massage the paste onto your skin for 2 to 3 minutes. Leave it on for 12 minutes.
Wash it off with warm water. Then, use your daily skin care routine.
Use once a week.
Want another lemon home remedy for beautiful, spotless skin? Here you go! This lemon juice & baking soda DIY can get rid of those blackheads in a snap. Enjoy and don't forget to subscribe to my YouTube channel.
If you need more anti-aging skin care advice or product suggestions, fill out this form and you will get a response shortly.
Go natural. It is good karma!