How to Increase the Glow of Your Skin Using Jojoba, Castor and Clay
So can we detoxify our skin and what does it mean exactly?
Detoxification of skin means to deep clean the pores and remove clogged up material like hardened oils from them. It also means to pull out any excess fluids that can build up overtime giving your skin a dull and puffy appearance. Detoxification of skin could also involve increasing blood circulation to it so that oxygen levels can be increased along with an increase in healing and recovery.
How does your skin tell you that it is in need of detoxification and a deep clean so to speak? There are many indicators. Top ones are blackheads, whiteheads, dullness, dark spots and a patchy and uneven appearance. If you feel your skin lacks the glow that you desire, chances are that a detoxification process can do the magic and leave your skin absolutely radiant. Needless to say a complete daily and weekly skin care routine made with natural detoxifying ingredients is supremely effective to keep your skin glowing, soft and youthful.
Nature offers miraculous ingredients that can enhance the glow and vitality of your skin. Many of these ingredients are quick acting and you can see the results in a very short period of time. How do they do this? Well among the many things they do for your skin, they also detoxify it, which means glowing skin that is even-toned and very vital.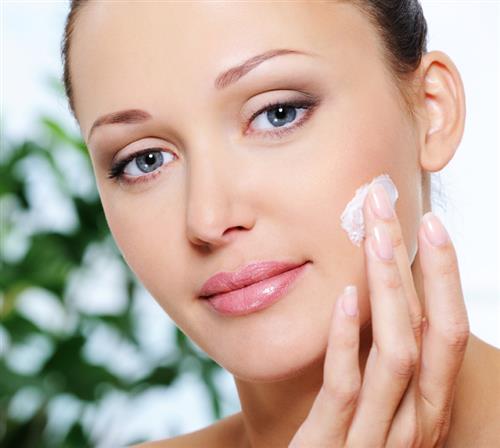 Let's explore 3 such ingredients. Be sure that they are part of the skin care products you use on a daily or weekly basis. I will also teach you easy ways to use these in home remedies, but do know that a daily skin care routine is not optional. Why? Because your skin needs to be cared for and kept clean on a daily basis, not only occasionally. Home remedies are awesome and form a supplement to your daily skin care routine, which should be made of products made for your unique skin type.
Click here to find out your skin type and then you could watch this video to learn how to put together a daily and weekly skin care routine for yourself.
Ok here are my top 3 ingredients to enhance the glow of your skin by promoting detoxification.
FULLER'S EARTH: A star skin care ingredient; that is what I call fuller's earth aka
multani mitti. It is a very common clay in the Indian sub-continent and widely used in Ayurvedic skin care preparations. It has some fantastic oil absorption properties and so is valuable for oily and combination skin care. It is very good for acne-prone skin as well. As it dries on the skin it creates a suction which makes it very easy for hardened oils, blackheads and whiteheads to come to the surface so they can be expelled by the skin. This suction also increases blood flow to the skin. This means more oxygen and detoxification. Fuller's earth and other common clays also have a very good mineral profile, which your skin simply loves.
Bentonite is a great clay as well and can be used almost as effectively as fuller's earth. Your weekly face mask is incomplete without a clay in it. Be it fuller's earth, bentonite or kaolin, all clays are detoxifying and glow-enhancing. After using a clay based mask, be sure to follow with serum and lotion right after to compensate for any loss of beneficial oils or hydration.
HOME REMEDY:
1 TSP fuller's earth
1 tsp aloe vera gel
5 drops vitamin E oil
plenty of rosewater to make a paste
Mix well and apply on the skin 1-2 times a week. Wash in 12-15 minutes and immediately after follow with your favorite Apsara serum and lotion.
JOJOBA OIL: This ingredient is technically a wax but looks and feels like a very lightweight oil. It is simply phenomenal to detoxify your skin and deep clean your pores. When skin is left so clean it is bound to glow with an inner radiance. Jojoba oil is structurally very similar to the natural oil that our own skin produces (sebum). Therefore it seeps right into the pores and begins to go to work immediately. It dissolves hardened oils and dislodges grime and impurities. This purging action is very clarifying to the skin and increases its vitality and beauty. It is also known to have natural anti-inflammatory properties and therefore becomes very valuable to heal acne. As your skin gets nourishment externally it feels less need to produce excess oil and this can result in calm and balanced skin with the appearance of pores much reduced.
HOME REMEDY:
10 drops jojoba oil
enough rosewater to make a paste
Mix well and apply on your skin 1-2 times a week. Wash in about 15 minutes and follow with your serum and lotion right after.
CASTOR OIL: An impressive de-greaser, this ingredient has been used in Ayurveda since ancient times internally as well as externally. It detoxifies both your digestive system as well as your skin. It is an inexpensive ingredient and very easy to find in drug stores and grocery stores. In addition to deeply detoxifying your skin, it also nourishes your skin very effectively. It is very high in natural fats and your skin loves a good dose of fatty acids to look youthful, nourished and radiant. In Ayurveda castor oil is revered for its natural anti-inflammatory properties and thus can be useful to calm your skin especially if is acne prone or sensitive. Castor oil is seriously purging to the skin, and thus it is very important that it be diluted down appropriately. It is this purging property that makes castor oil deeply detoxifying. It can leave the skin extremely clean, and externally this cleansing becomes very apparent. Your skin glows and does not feel and look weighed down. Blackheads and whiteheads could disappear or look far less pronounced.
HOME REMEDY:
6 drops of castor oil
6 drops of aloe vera juice
Mix well with a fork and massage into your skin with your fingertips. Use upward strokes and massage in for about 5 minutes. Then leave on for another 10 minutes. Thoroughly wash your skin with your favorite Apsara cleanser and warm water. Spray on your Apsara toner and follow with serum and lotion. You could well be amazed at how radiant your skin looks. Use no more than 1-2 times a week.
I hope you found this information useful.
Got questions for me? FILL OUT THIS FORM with your questions and and I will be thrilled to guide you towards flalwess skin and healthy hair.
Go natural. It is good karma!
Read Apsara customer reviews on THIS PAGE.