Homemade eye makeup remover recipe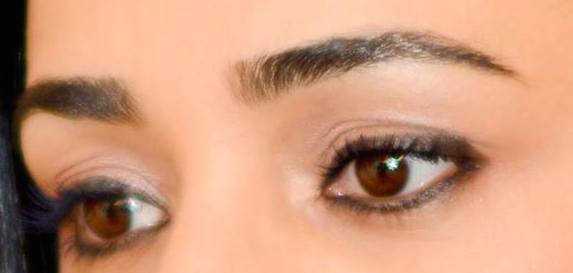 1 TSP jojoba oil (available at a health food store)
1/2 TSP olive oil
6 drops of vitamin E oil
Mix these ingredients very well and get a few drops on a clean cotton ball. Use gentle, circular motion to wipe off your eye makeup (can be used all over the face and neck as well). Get new cotton balls and repeat till all the makeup is off. Now wash with a gentle, sulfate free facial cleanser (always use lukewarm water) and follow with your serum and lotion for your skin type.
Most eye makeup removers in the market are very harsh and can leave the delicate eye area vulnerable to dryness and inflammation, and early wrinkling. This can take many uses to become quite apparent. However, this at-home recipe not only removes that stubborn eye makeup, it also nourishes and deep cleans the skin.
Jojoba is well known to be structurally very similar to the sebum (natutal oil) in our own skin, and therefore has the ability to penetrate deeper layers of skin to clean (and nourish) quite thoroughly. Oilve oil has a wonderful fatty acid and protein profile and rejuvenates the skin while cleaning it. Vitamin E oil is a well esteemed antioxidant. It can reduce and reverse free radical damage, and therefore reduce the appearance of those fine lines and crow's feet around your eyes.
So can you now believe that your makeup remover can actually be great for your skin! Yeah it can!
Try it today, and do share your thoughts with us in comments below.
Go natural. It is good karma!